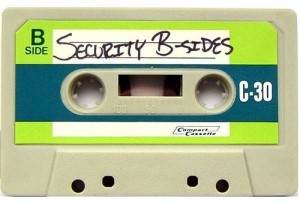 The first edition of BSides London is moving forward at good speed. The  crew of volunteers worked hard and announced today the schedule. During the call for papers, 54 submissions were submitted then registered visitors were invited to vote for their preferred subjects. Fifty-four submissions for the first edition of the one-day event is amazing.
I took part to the CFP and submitted a talk about log management ("All your logs are belong to you!") and I was surprised to be accepted. Thank you to everyone who voted for me. The second good (and even more important) news is that people care about their logs!
I quickly had a look to the schedule and, as usual, some agenda conflicts will arise. Some of the talk I'd like to attend:
Social media ans security: Are they compatible? (Dr Paul Judge)
Cloud computing due diligence – WTF? (Jimmy Blake)
The failure of authentication revolution (Benjamin Boulnois & Tim Dobbelaere)
How to not get hired for a security job (Stephen Bonner)
You built a security castle and forget the brudge… not users are climbing your walls (Soraya Viloria Montes de Oca)
Layer 8 security – Securing the nut between the keyboard and the screen (Brian Honan)
And last but not least… The "buzz"!
Security YMCA (Chris John Riley, TheSuggmeister, Arron "finux" Finnon & Frank Breedijk)
I can't wait to be in London. See you there!