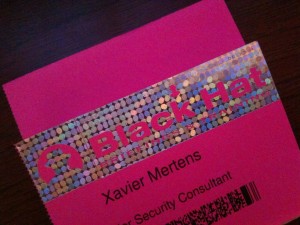 BlackHat stopped in Barcelona for the 2011 European edition. Second time at the same place, the "Palau de Congressos de Catalunya". Same format as the previous editions: two days of trainings and two days of briefings. Strange, lot of trainings were canceled! Is it due to the crisis and less registrations?
I'm following "The Web Application Hacker's Handbook" based on the book of the same name. The trainings follows exactly the book chapters with a lot of hands-on using BurpSuite. The first day ended with the exercises about the SQL injection techniques. Very hard at the end of the day for my brain! It will require a second lecture and more practice!
This year, I'll present a workshop with Wim Remes about our favorite topic: log management and especially OSSEC. If you find this topic interesting, feel free to join us if you're attending the conference. Regarding the briefings, here is my first selection:
I'll tweet during the talks and write wrap-ups on this blog. Stay tuned! If you'd like to meet, let me know!