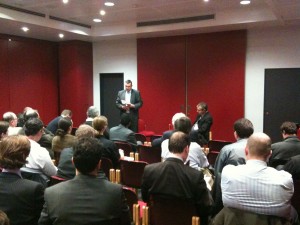 This week is a real security marathon. I was in London yesterday but came back to Belgium too late to attend the ISSA Belgian Chapter meeting. The invited speaker was a great one: Chris Hoff. According to friends, it was great! Today was also the first day of the InfoSecurity.be event. This is the main security oriented organization (on a commercial point of view) in Belgium. Too much commercial in my opinion but, the security landscape being small in Belgium, it's THE place to meet everybody, to have great discussions and to have some drinks.
The 2010 edition saw an cool initiative from (ISC)2: they organized a Professional Development Cafe where CISSP's could meet other CISSP's but also people interested into the certification process or a career in the security field. The organizer announced a huge number of registrations but a lowest number of people attended. Less people but quite interesting point of view. It's always nice to ear feedback from "colleagues". Several topics were covered: audit, risks assessment, BCP, pentesting, legal, etc.
In the evening, I attended another event organized by the ISACA Belgian Chapter, they also invited a great speaker: Dr Eugene Schultz. He's a security expert, wrote several books and papers, held several critical positions. This is the typical guy who will be able to keep the word for an unlimited amount of time once a discussion started. The event was original: no slides, no media support, just an open discussion with him, a big "questions & answers" session. Eugene covered several topics like the role of the CISO inside the organizations, mobile security, the coming threats, cloud security and so many topic. It was a great talk.
Now back to home, I still need to process my backlog of RSS feeds, e-mails and tweets, to sleep a few hours and let's go for the second day at InfoSecurity. I'll try to attend some conference and make a tour of the exhibitors. The first day looked promising: a lot of visitors and interesting questions. It looks that the crisis did not affect too much the security area and companies still have big projects to be launched.