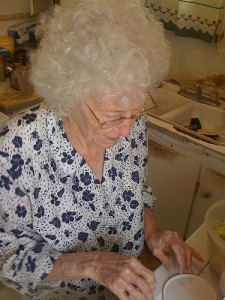 Yesterday, I received the e-mail below, forwarded by a friend. Usually, I don't react on such e-mails (who do not receive daily PowerPoint files, jokes or funny messages in his mailbox?). But this time, it was quite realistic.
This is  a letter sent by a Grandma to her bank. There are so realistic facts about the security procedures that I've to share it with you. Many allusions to methods used by financial institutions…
The original text was in French (original text here) and was translated in English (my apologize for the approximate translation of some sentences)
Dear Sir,
I would like to thank you for having refused my check that would have allowed me to pay the plumber last month. By my calculations, three nanoseconds elapsed between the presentation of the check and the arrival of the funds on my account. I refer, of course, to the automatic monthly deposit of my pension (which occurs, I must admit, for only eight years). I must also congratulate you for the debit of 30 EUR from my account for the inconvenience caused to your bank. This incident prompted me to review the way I'll management my finances.
I noticed that whereas I personally answer your calls telephone and letters, I am confronted with the impersonal, demanding and programmed entity of your bank. Starting from today, I decided to deal only with a human person. The monthly mortgage loan will no longer be automatically transferred but will arrive via checks addressed in a confidential way to a designated employee who will be selected according to my own criteria. Be warned that any other person taking care of my letters will be considered as a violation of postal regulations.
You will find enclosed an application form that must be completed by the designated employee. It contains eight pages. I'm sorry, but this is the only way to learn personal details about your employee as the bank knows about me. There is no alternative. Please note that all pages about medical records must be countersigned by a notary, and the mandatory details of his/her financial situation (income, debts, assets and liabilities) must accompanied by relevant documents.
Then, at my convenience, I will issue a PIN code for your employee. He/she must use this code during each appointment. Unfortunate that code will not contain less than 28 digits but, again, this is based on the number of keys that I have to press to access your bank phone services. Let me develop this procedure.
When you call me, press the buttons as follows: Immediately after dialing the number, please press star (*) to select your language.
Then 1 for an appointment with me.
The 2 for questions related to late payments.
The 3 to transfer the call to the living room.
The 4 to transfer the call to the bedroom.
The 5 to transfer the call to the toilet.
The 6 to forward the call to my mobile if I am not at home.
The 7 to leave a message on my PC. A password will be required. This password will be communicated at a later date to the authorized person mentioned above.
The 8 to return to the main menu and listen to new options.
The 9 to any generic question or complaint. There are risks to be put on hold.
The 10, again to select the language. This may increase the waiting time but relaxing music will be played during this time.
Regrettably, but again following your example, additional charges will be levied to cover the installation of equipment required by this new procedure. May I wish you a happy, albeit very slightly less prosperous new year?
Respectfully,
Your humble customer.