Assume the following setup: A Solaris 10 box with a zone Zone1.
The global zone is connected on 10.0.0.0/24 thru NIC bge0. The default gateway is 10.0.0.1.
Zone1 is part of a DMZ (192.168.0.0/24) and has a dedicated NIC bge1. The DMZ default gateway is 192.168.0.1.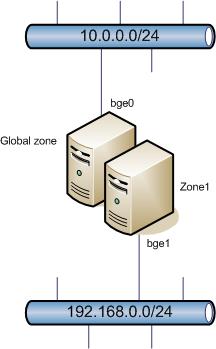 A Solaris zone cannot interact on the TCP/IP stack. Everything is configured at the global zone level. It this configuration, Zone1 won't have a default gateway!
To fix this problem, add a second gateway (/etc/defaultrouter(4)) in the global zone. Based on the zone IP address, Solaris will use the correct default gateway.
global# cat /etc/defaultrouter
# Globalzone default  gateway
10.0.0.1
# Zone1 default gateway
192.168.0.1
global#