I can't remember why I started to write conference wrap-ups but it started in 2009 when I attended my first Hack.lu! I had a quick look at my blog archives and, until today, I wrote 184 wrap-ups!  The initial idea was probably to bring some material to colleagues who did not have the chance to attend the conference in Luxembourg. Quickly I got some very positive feedbacks from my existing blog readers and it started to attract more and more people.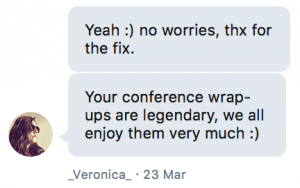 Why am I still writing such kind of articles today? For multiple reasons… The first one is personal: It helps me to learn new stuff. The exercise to keep the focus on a speaker and to take notes on the fly is complex. You need to listen, understand and summarize in real time. Usually, I'm writing very synthetic notes and I force myself to beautify the text the same day (otherwise, I'm quickly losing details). Often, my wrap-ups are published during the night.
The second one is for the community… If I've some content, why not share it? Honestly, based on the number of infosec events I'm attending,  I consider myself as a lucky guy. With my wrap-ups, I can share a (very) small piece of information that I collected. They are published "as is" without any restriction and review (read: errors can always be present!). I know that some people reuse them even if they attended the same conference. They need to report some content internally in their organization 😉 They are free but be fair to keep a link to the original article.
It won't change and, next week, I'll be in Luxembourg for hack.lu. Immediately after, I'll fly to Budapest for Hacktivity. Hack.lu is one of my preferred events not only for the quality of the schedule but also for the relaxed atmosphere. I meet some friends once a year at hack.lu! My first participation was in 2008 and this edition promises to be awesome with a bunch of interesting talks. Here is my pre-selection:
Randori, a low interaction honeypot with a vengeance (Bouke van Laethem)
Device sensors meet the web – a story of sadness and regret (Lukasz Olejnik)
The Bicho: An Advanced Car Backdoor Maker (Sheila Ayelen Berta, Claudio Caracciolo)
Keynterceptor: Press any key to continue (Niels van Dijkhuizen)
Sigma – Generic Signatures for Log Events (Thomas Patzke)
Front door Nightmares. When smart is not secure (ObiWan666)
Then, let's go to Hacktivity. Contrariwise, it will be my first experience with this event. The conference has a very good reputation. A lot of nice topics and here is my pre-selection:
REST API, pentester's perspective (Mateusz Olejarka)
Exploiting USB/IP in Linux (Ignat Korchagin)
Hacking drones and buying passwords in the Darknet (Tobias Schrödel)
A heaven for Hackers: Breaking Log/SIEM Products (Mehmet Ince)
BlueBorne Explained: Exploiting Android devices over the air (Ben Seri Gregory Vishnepolsky)
You can expect a massive amount of Tweets and daily wrap-ups during the week! Stay tuned and thanks again for reading my delusions…
[Note: You can follow the upcoming conferences that I will attend on the right side of this page in the "Upcoming Events" section]