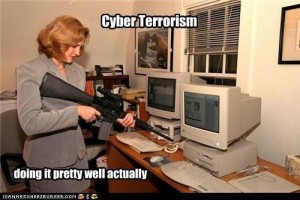 Today I read an interesting document which landed into my mailbox. It's about a call for proposals initiated by the European Commission "Home Affairs" DG. The document was a CFP ("Call For Participation") part of the programme called "Prevention, Preparedness and Consequence Management of  Terrorism and other Security related Risks for the Period 2007-2013" (called the CIPS Programme). Here is a quoted definition extracted from the descriptive document:
This Call for Proposals corresponds to the implementation of Part A of the Work Programme and aim at awarding grants to transnational and/or national projects that contribute to the development of the "European Programme for Critical Infrastructure Protection" (EPCIP) as well as policy measures aiming at upholding, and/or guaranteeing security and public order during a crisis situation.
According to the same document, the total budget allowed to this programme is 9.3M EUR for this year. The complete description is available here. Immediately, I asked myself what kind of projects could be accepted and sponsored? To be fully transparent, the European Commission published the list of winners from previous years on the same website. Here is a link to the 2012 awarded projects. Some examples:
"Fight and Investigation of Cyber Attacks Against Critical Governmental" by Estonian Police and Border Guard Board (218K EUR)
"Identification of threats against critical infrastructures and decision support" by Province of Novara, Italia (380K EUR)
"Formal Methods: Business Impact of Application to Security relevant Devices" by the University of Piemonte Orientale, Italia (373K EUR)
But the project which attracted my attention was the one called "SNAPSHOT" which stands for a "Social Network Analysis Platform for the Support of european and HOmeland Threat prevention strategies". Here is the description:
The SNAPSHOT project aims at increasing the global security awareness of critical infrastructure operators (CIOs) by developing a ground-breaking software platform for monitoring and assessment of evolving threats based on premium and exclusive methodologies of open source intelligence. Particular emphasis is brought upon the analysis of online social media, which are considered invaluable sources for intelligence, since they contain evidence of opinion trends, population response to critical events and therefore may provide key elements of policy and decision making in the realm of critical infrastructure security.
Global, monitoring, open source intelligence, social media, evidence, trends, etc. This sounds like a known story isn't it? I tried to find more information about this project but no luck. Transparancy?