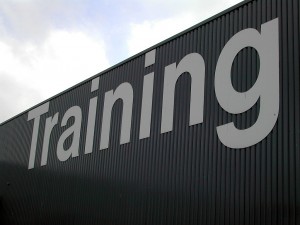 If you are working in the "IT security" field, you must keep your knowledge up to the highest level. It's a matter of "live or death" and continuous training is mandatory. That's why big names in the certification world like ISC² or ISACA impose their members to collect a minimum amount of CPE ("Continuous Professional Eduction") per year. But how to achieve this?
For people working in IT security, it's first of all a "passion" and, honestly, I don't think that this job can be performed only for the money earned at the end of the month. You won't survive! Trainings are also a hot topic for the managers: If they don't allow the security guys to attend trainings, they will leave. At the opposite, high skilled professionals will be often contacted by head hunters and tempted to leave too. Trainings have also a cost and, in this time of crisis, that's one of the first budget items to be targeted. Another good practice is to keep some free time to search, investigate. Again, due to the business pressure, this reserved time is canceled and reassigned to projects which immediately bring in money.
That's why a lot of security guys are expanding their knowledge by themselves, after their regular job. Here comes into account the passion for the job. They participate to user-groups, to open source projects or in the organization of events. They are plenty of opportunities to learn new stuff. A good example is the OWASP which has local chapters in a lot of countries and proposes interesting events. The word is given: "security events". They are plenty of such events organized worldwide but do you know that the second edition of BruCON will be held this year in Brussels? That's a perfect place to expand your knowledge at a very affordable price! There are plenty of good reasons to join the conference:
A selection of international top-speakers will present their last researches and findings about hot security topics;
Workshops will be organized with hands-on sessions by experts in their field;
A excellent way to increase your own social network (via the hacker spaces, the podcasters meetup, the Hex Factor contest). Remember, security conference are great from a social point of view.
BruCON is not only a two-days events. They are also trainings proposed just before the main event. And this is another excellent opportunity to increase your knowledge. If you're employed or living in Belgium, think about it. If you're a manager, check also them out! They will be given in Belgium, no need to reserve rooms and flights! It's still possible to book trainings at a early price (until the 1st of July). Finally, remember that BruCON must live! Those trainings are the main source of revenue. Not only you will make your security guys happy with a top-training but you'll contribute to an major security event in Belgium!