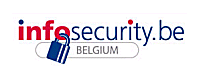 A few words about infosecurity.be. This edition was held at Brussels Expo. It's without doubt the only Belgian event where you can meet so much security consultants per square-meter!
As said on the Belsec blog, this event is first of all a sales event. I'll not be too critical about this because my company held a stand and made business during the two days! I planned to attend a few conferences but (un)fortunately, I had to perform some presales activities and missed them.
I quickly walked through the exhibition but did not see relevant changes with the previous edition. It's really small world! I had good times with ex-colleagues, friends and customers. Note that (I didn't read official numbers from the organisators) there was a lot of interested visitors. It seems that the current crisis did not (yet?) affected the security business.