My notebook HD died yesterday (Linux was installed). Today I decided to test OpenBSD on it.
The hardware is a Compaq/HP nx7010 notebook. I installed OpenBSD 3.9 and XFCE 4.2 as GUI.
I need some productivity tools for my job. Installed OpenOffice 2 using the Linux emulation feature of OpenBSD. I'll not write the procedure here, there are already plenty of howto's on the web (this one for example).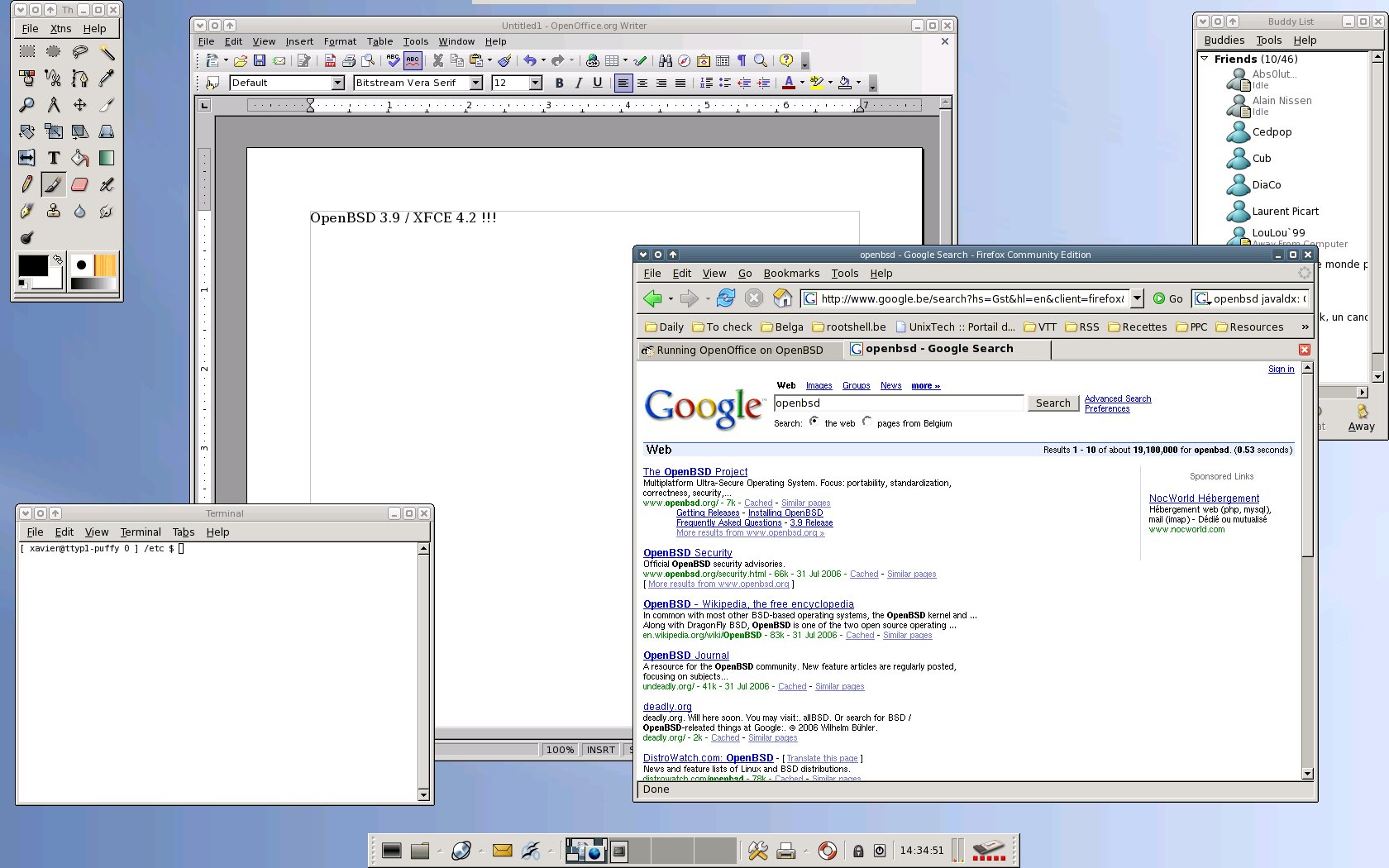 nx7010 OpenBSD dmesg:
OpenBSD 3.9 (GENERIC) #617: Thu Mar  2 02:26:48 MST 2006
deraadt@i386.openbsd.org:/usr/src/sys/arch/i386/compile/GENERIC
cpu0: Intel(R) Pentium(R) M processor 1.60GHz ("GenuineIntel" 686-class) 598 MHz
cpu0: FPU,V86,DE,PSE,TSC,MSR,MCE,CX8,SEP,MTRR,PGE,MCA,CMOV,PAT,CFLUSH,ACPI,MMX,FXSR,SSE,SSE2,SS,TM,SBF,EST,TM2
cpu0: Enhanced SpeedStep 600 MHz (988 mV): speeds: 1600, 1400, 1200, 1000, 800, 600 MHz
real mem  = 1073127424 (1047976K)
avail mem = 972492800 (949700K)
using 4278 buffers containing 53760000 bytes (52500K) of memory
mainbus0 (root)
bios0 at mainbus0: AT/286+(c3) BIOS, date 08/16/04, BIOS32 rev. 0 @ 0xf0000
apm0 at bios0: Power Management spec V1.2 (BIOS managing devices)
apm0: AC off, battery charge unknown
apm0: flags 130102 dobusy 0 doidle 1
pcibios0 at bios0: rev 2.1 @ 0xf0000/0x2000
pcibios0: PCI IRQ Routing Table rev 1.0 @ 0xf0840/176 (9 entries)
pcibios0: bad IRQ table checksum
pcibios0: PCI IRQ Routing Table rev 1.0 @ 0xf99f0/176 (9 entries)
pcibios0: PCI Exclusive IRQs: 5 10 11
pcibios0: no compatible PCI ICU found: ICU vendor 0x8086 product 0x24cc
pcibios0: PCI bus #3 is the last bus
bios0: ROM list: 0xc0000/0x10000
cpu0 at mainbus0
pci0 at mainbus0 bus 0: configuration mode 1 (no bios)
pchb0 at pci0 dev 0 function 0 "Intel 82855PE Hub" rev 0x03
ppb0 at pci0 dev 1 function 0 "Intel 82855PE AGP" rev 0x03
pci1 at ppb0 bus 1
vga1 at pci1 dev 0 function 0 "ATI Radeon Mobility M9 Lf" rev 0x01
wsdisplay0 at vga1 mux 1: console (80x25, vt100 emulation)
wsdisplay0: screen 1-5 added (80x25, vt100 emulation)
uhci0 at pci0 dev 29 function 0 "Intel 82801DB USB" rev 0x01: irq 10
usb0 at uhci0: USB revision 1.0
uhub0 at usb0
uhub0: Intel UHCI root hub, rev 1.00/1.00, addr 1
uhub0: 2 ports with 2 removable, self powered
uhci1 at pci0 dev 29 function 1 "Intel 82801DB USB" rev 0x01: irq 5
usb1 at uhci1: USB revision 1.0
uhub1 at usb1
uhub1: Intel UHCI root hub, rev 1.00/1.00, addr 1
uhub1: 2 ports with 2 removable, self powered
uhci2 at pci0 dev 29 function 2 "Intel 82801DB USB" rev 0x01: irq 5
usb2 at uhci2: USB revision 1.0
uhub2 at usb2
uhub2: Intel UHCI root hub, rev 1.00/1.00, addr 1
uhub2: 2 ports with 2 removable, self powered
ehci0 at pci0 dev 29 function 7 "Intel 82801DB USB" rev 0x01: irq 5
usb3 at ehci0: USB revision 2.0
uhub3 at usb3
uhub3: Intel EHCI root hub, rev 2.00/1.00, addr 1
uhub3: 6 ports with 6 removable, self powered
ppb1 at pci0 dev 30 function 0 "Intel 82801BAM Hub-to-PCI" rev 0x81
pci2 at ppb1 bus 2
"VIA VT6306 FireWire" rev 0x80 at pci2 dev 0 function 0 not configured
rl0 at pci2 dev 1 function 0 "Realtek 8139" rev 0x20: irq 10, address 00:0f:b0:40:ca:cf
rlphy0 at rl0 phy 0: RTL internal PHY
iwi0 at pci2 dev 2 function 0 "Intel PRO/Wireless 2200BG" rev 0x05: irq 11, address 00:0e:35:9b:f6:5d
cbb0 at pci2 dev 4 function 0 "ENE CB-1410 CardBus" rev 0x01: irq 5
cardslot0 at cbb0 slot 0 flags 0
cardbus0 at cardslot0: bus 3 device 0 cacheline 0x8, lattimer 0x20
pcmcia0 at cardslot0
ichpcib0 at pci0 dev 31 function 0 "Intel 82801DBM LPC" rev 0x01
pciide0 at pci0 dev 31 function 1 "Intel 82801DBM IDE" rev 0x01: DMA, channel 0 configured to compatibility, channel 1 configured to compatibility
wd0 at pciide0 channel 0 drive 0:
wd0: 16-sector PIO, LBA, 57231MB, 117210240 sectors
wd0(pciide0:0:0): using PIO mode 4, Ultra-DMA mode 5
atapiscsi0 at pciide0 channel 1 drive 0
scsibus0 at atapiscsi0: 2 targets
cd0 at scsibus0 targ 0 lun 0:  SCSI0 5/cdrom removable
cd0(pciide0:1:0): using PIO mode 4, DMA mode 2
ichiic0 at pci0 dev 31 function 3 "Intel 82801DB SMBus" rev 0x01: irq 10
iic0 at ichiic0
auich0 at pci0 dev 31 function 5 "Intel 82801DB AC97" rev 0x01: irq 10, ICH4 AC97
ac97: codec id 0x41445374 (Analog Devices AD1981B)
ac97: codec features headphone, 20 bit DAC, No 3D Stereo
audio0 at auich0
"Intel 82801DB Modem" rev 0x01 at pci0 dev 31 function 6 not configured
isa0 at ichpcib0
isadma0 at isa0
pckbc0 at isa0 port 0x60/5
pckbd0 at pckbc0 (kbd slot)
pckbc0: using irq 1 for kbd slot
wskbd0 at pckbd0: console keyboard, using wsdisplay0
pmsi0 at pckbc0 (aux slot)
pckbc0: using irq 12 for aux slot
wsmouse0 at pmsi0 mux 0
pcppi0 at isa0 port 0x61
midi0 at pcppi0:
spkr0 at pcppi0
lpt0 at isa0 port 0x378/4 irq 7
npx0 at isa0 port 0xf0/16: using exception 16
pccom0 at isa0 port 0x3f8/8 irq 4: ns16550a, 16 byte fifo
pccom2: irq 5 already in use
biomask e76d netmask ef6d ttymask ffef
pctr: 686-class user-level performance counters enabled
mtrr: Pentium Pro MTRR support
uhidev0 at uhub2 port 1 configuration 1 interface 0
uhidev0: Logitech Optical USB Mouse, rev 2.00/3.40, addr 2, iclass 3/1
ums0 at uhidev0: 3 buttons and Z dir.
wsmouse1 at ums0 mux 0
ugen0 at uhub2 port 2
ugen0: ACTIONTEC Bluetooth by hp, rev 1.10/8.02, addr 3
dkcsum: wd0 matches BIOS drive 0x80
root on wd0a
rootdev=0x0 rrootdev=0x300 rawdev=0x302
syncing disks... done
rebooting...
OpenBSD 3.9 (GENERIC) #617: Thu Mar  2 02:26:48 MST 2006
deraadt@i386.openbsd.org:/usr/src/sys/arch/i386/compile/GENERIC
cpu0: Intel(R) Pentium(R) M processor 1.60GHz ("GenuineIntel" 686-class) 1.60 GHz
cpu0: FPU,V86,DE,PSE,TSC,MSR,MCE,CX8,SEP,MTRR,PGE,MCA,CMOV,PAT,CFLUSH,ACPI,MMX,FXSR,SSE,SSE2,SS,TM,SBF,EST,TM2
cpu0: Enhanced SpeedStep 1600 MHz (1340 mV): speeds: 1600, 1400, 1200, 1000, 800, 600 MHz
real mem  = 1073127424 (1047976K)
avail mem = 972492800 (949700K)
using 4278 buffers containing 53760000 bytes (52500K) of memory
mainbus0 (root)
bios0 at mainbus0: AT/286+(c3) BIOS, date 08/16/04, BIOS32 rev. 0 @ 0xf0000
apm0 at bios0: Power Management spec V1.2 (BIOS managing devices)
apm0: AC on, battery charge unknown
apm0: flags 130102 dobusy 0 doidle 1
pcibios0 at bios0: rev 2.1 @ 0xf0000/0x2000
pcibios0: PCI IRQ Routing Table rev 1.0 @ 0xf0840/176 (9 entries)
pcibios0: bad IRQ table checksum
pcibios0: PCI IRQ Routing Table rev 1.0 @ 0xf99f0/176 (9 entries)
pcibios0: PCI Exclusive IRQs: 5 10 11
pcibios0: no compatible PCI ICU found: ICU vendor 0x8086 product 0x24cc
pcibios0: PCI bus #3 is the last bus
bios0: ROM list: 0xc0000/0x10000
cpu0 at mainbus0
pci0 at mainbus0 bus 0: configuration mode 1 (no bios)
pchb0 at pci0 dev 0 function 0 "Intel 82855PE Hub" rev 0x03
ppb0 at pci0 dev 1 function 0 "Intel 82855PE AGP" rev 0x03
pci1 at ppb0 bus 1
vga1 at pci1 dev 0 function 0 "ATI Radeon Mobility M9 Lf" rev 0x01
wsdisplay0 at vga1 mux 1: console (80x25, vt100 emulation)
wsdisplay0: screen 1-5 added (80x25, vt100 emulation)
uhci0 at pci0 dev 29 function 0 "Intel 82801DB USB" rev 0x01: irq 10
usb0 at uhci0: USB revision 1.0
uhub0 at usb0
uhub0: Intel UHCI root hub, rev 1.00/1.00, addr 1
uhub0: 2 ports with 2 removable, self powered
uhci1 at pci0 dev 29 function 1 "Intel 82801DB USB" rev 0x01: irq 5
usb1 at uhci1: USB revision 1.0
uhub1 at usb1
uhub1: Intel UHCI root hub, rev 1.00/1.00, addr 1
uhub1: 2 ports with 2 removable, self powered
uhci2 at pci0 dev 29 function 2 "Intel 82801DB USB" rev 0x01: irq 5
usb2 at uhci2: USB revision 1.0
uhub2 at usb2
uhub2: Intel UHCI root hub, rev 1.00/1.00, addr 1
uhub2: 2 ports with 2 removable, self powered
ehci0 at pci0 dev 29 function 7 "Intel 82801DB USB" rev 0x01: irq 5
usb3 at ehci0: USB revision 2.0
uhub3 at usb3
uhub3: Intel EHCI root hub, rev 2.00/1.00, addr 1
uhub3: 6 ports with 6 removable, self powered
ppb1 at pci0 dev 30 function 0 "Intel 82801BAM Hub-to-PCI" rev 0x81
pci2 at ppb1 bus 2
"VIA VT6306 FireWire" rev 0x80 at pci2 dev 0 function 0 not configured
rl0 at pci2 dev 1 function 0 "Realtek 8139" rev 0x20: irq 10, address 00:0f:b0:40:ca:cf
rlphy0 at rl0 phy 0: RTL internal PHY
iwi0 at pci2 dev 2 function 0 "Intel PRO/Wireless 2200BG" rev 0x05: irq 11, address 00:0e:35:9b:f6:5d
cbb0 at pci2 dev 4 function 0 "ENE CB-1410 CardBus" rev 0x01: irq 5
cardslot0 at cbb0 slot 0 flags 0
cardbus0 at cardslot0: bus 3 device 0 cacheline 0x8, lattimer 0x20
pcmcia0 at cardslot0
ichpcib0 at pci0 dev 31 function 0 "Intel 82801DBM LPC" rev 0x01
pciide0 at pci0 dev 31 function 1 "Intel 82801DBM IDE" rev 0x01: DMA, channel 0 configured to compatibility, channel 1 configured to compatibility
wd0 at pciide0 channel 0 drive 0:
wd0: 16-sector PIO, LBA, 57231MB, 117210240 sectors
wd0(pciide0:0:0): using PIO mode 4, Ultra-DMA mode 5
atapiscsi0 at pciide0 channel 1 drive 0
scsibus0 at atapiscsi0: 2 targets
cd0 at scsibus0 targ 0 lun 0:  SCSI0 5/cdrom removable
cd0(pciide0:1:0): using PIO mode 4, DMA mode 2
ichiic0 at pci0 dev 31 function 3 "Intel 82801DB SMBus" rev 0x01: irq 10
iic0 at ichiic0
auich0 at pci0 dev 31 function 5 "Intel 82801DB AC97" rev 0x01: irq 10, ICH4 AC97
ac97: codec id 0x41445374 (Analog Devices AD1981B)
ac97: codec features headphone, 20 bit DAC, No 3D Stereo
audio0 at auich0
"Intel 82801DB Modem" rev 0x01 at pci0 dev 31 function 6 not configured
isa0 at ichpcib0
isadma0 at isa0
pckbc0 at isa0 port 0x60/5
pckbd0 at pckbc0 (kbd slot)
pckbc0: using irq 1 for kbd slot
wskbd0 at pckbd0: console keyboard, using wsdisplay0
pmsi0 at pckbc0 (aux slot)
pckbc0: using irq 12 for aux slot
wsmouse0 at pmsi0 mux 0
pcppi0 at isa0 port 0x61
midi0 at pcppi0:
spkr0 at pcppi0
lpt0 at isa0 port 0x378/4 irq 7
npx0 at isa0 port 0xf0/16: using exception 16
pccom0 at isa0 port 0x3f8/8 irq 4: ns16550a, 16 byte fifo
pccom2: irq 5 already in use
biomask e76d netmask ef6d ttymask ffef
pctr: 686-class user-level performance counters enabled
mtrr: Pentium Pro MTRR support
uhidev0 at uhub2 port 1 configuration 1 interface 0
uhidev0: Logitech Optical USB Mouse, rev 2.00/3.40, addr 2, iclass 3/1
ums0 at uhidev0: 3 buttons and Z dir.
wsmouse1 at ums0 mux 0
ugen0 at uhub2 port 2
ugen0: ACTIONTEC Bluetooth by hp, rev 1.10/8.02, addr 3
dkcsum: wd0 matches BIOS drive 0x80
root on wd0a
rootdev=0x0 rrootdev=0x300 rawdev=0x302