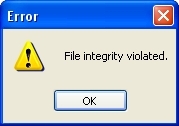 FIM or "File Integrity Monitoring" can be defined as the process of validating the integrity of operating system and applications files with a verification method using a hashing algorythm like MD5 or SHA1 and then comparing the current file state with a baseline. A hash will allow the detection of files content modification but other information can be checked too: owner, permissions, modification time. Implemeting file integrity monitoring is a very good way to detect compromized servers. Not only operating system files can be monitored (/etc on UNIX, registry on Windows, share libraries, etc) but also applications (monitoring your index.php or index.html can reveal a defaced website).
During its implementation, a file integrity monitoring project may face two common issues:
The baseline used to be compared with the current file status must of course be trusted. To achieve this, it must be stored on a safe place where attacker cannot detect it and cannot alter it!

The process must be fine tuned to react only on important changes otherwise they are two risks: The real suspicious changes will be hidden in the massive flow of false-positives. People in charge of the control could miss interesting changes.
There are plenty of tools which implement FIM, commercial as well as free. My choice went to OSSEC for a while. My regular followers know that I already posted lot of articles about it. I also contributed to the project with a patch to add Geolocatization to alerts. This time, I wrote another patch to improve the file integraty monitoring feature of OSSEC.