BruCON is fast approaching! In a few weeks, hackers will invade the center of Ghent! This year, we will celebrate the fifth edition of this conference! Already five years and our motivation remained the same, even more, it increased! I'm speaking here about myself but I'm sure that my colleagues have the same feeling. This year, instead of a CTF organized by the HexFactor during the conference, a pre-event will be organized the day before with a CTF proposed by Facebook.
Another tradition at BruCON is to organize another pre-event called "SushiCon" and we won't change good habits! I propose to meet again during the evening before the conference to get some sushis and to perform some networking / social-engineering in a relaxed atmosphere… From a practical point of view, most people of the crew will be busy to prepare the venue so we won't expect to be available immediately after the Facebook CTF. To estimate the number of people, please fill the following doodle with your nick/name and preferred time slot. Click to register: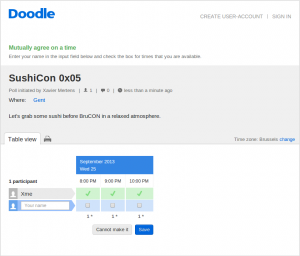 For practical purposes, be sure to be present. Details will be communicated later (location & hour). Suggestion: Ikura Sushi (open up to 11:00 PM).