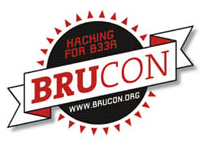 We are so close to the next edition of BruCON! The volunteers are doing their best and keep the pressure to make this event awesome!
It's not too late to register and I've a gift for my blog readers: 2 free tickets! (*). As a sponsor, my employer received tickets and some are still available.
Let's start a small contest! The first two who will give the right answer to the question below will win a free ticket! Ready?
"Where have been organized the two first BruCON editions? (name of the venue)"
Answers are accepted only via e-mail: xavier -at- rootshell -dot- be. Please be sure to have free time to attend the conference! If not, let other participants a chance to win!
Tip: check 2010.brucon.org.
(*) The free ticket give you access to the two conference days, Monday & Tuesday 19-20 September 2011.