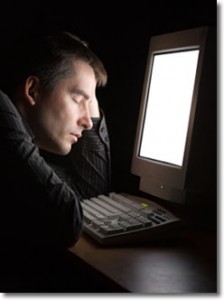 Monday 23:10… Back from holidays, it was my first day back at work. My day job is over but I'm still online in my dark room with only the noise of some fans, the light of my laptops / monitors and the typical keyboard "clicks"… My wife comes in: "Hey, come on! you're still working? Can't you turn those toys off?"
That's the major problem for us, IT/security guys: Our job is first of all a passion. For the "non initiated", sitting in front of a computer means immediately that we are "working". That's not true! Once my day job done, I'm starting to work on my personal projects: updating this blog, reading the security news, discovering new tools & procedures, preparing some slides and… being a volunteer!
And the time flies so quickly! In less than one month, the BruCON security conference will take place in Brussels! For the third time, I'm giving my small contribution as a volunteer. I'll try to provide some Internet connectivity to the visitors as well as the online facilities (web sites, wiki's, mailing lists, gateway and so on…). Being a volunteer requires a lot of time and energy but this is so exciting! You meet nice people, you learn of lot. Once done, you are so tired but proud to have joined the adventure! See you during the conference!
And Honey… Thank you for your understanding!