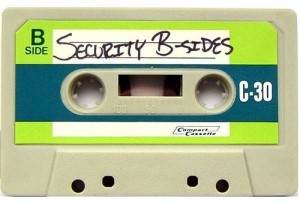 Infosec people must keep their knowledge at the highest level. New threads, new technologies arise all the time. If you don't perform a continuous education, you'll are dead, so simply!
There are plenty of ways to keep learning: books, forums, podcasts. Those are based on self-learning. Trainings and security conferences are very interesting but often expensive! It's difficult to attend a lot of them if you don't receive some financial support from your employer.  Such events are important not only for the  presentations but especially for the contacts in real life. Who said that IT people are associals? Conferences are nice places to maintain and expend your social network.
How about free events where you could meet other security professionals? Have a look at Security B-Sides. The definition given on the website says all:
"Each BSides is a community-driven framework for building events for and by information security community members.  The goal is to expand the spectrum of conversation beyond the traditional confines of space and time.  It creates opportunities for individuals to both present and participate in an intimate atmosphere that encourages collaboration. It is an intense event with discussions, demos, and interaction from participants. It is where conversations for the next-big-thing are happening."
This adventure started with some speakers who were not accepted to talk to BlackHat Las Vegas. This is a major security event on the calendar and some good talks were rejected due to a lack of available slots in the planning. B-Sides was born! The first event was organized during BlackHat 2009. Day after day, more and more volunteers decided to organize their local initiatives and today, B-Sides events are organized on all continents.
Living in Belgium, I'm interested in European events (less travel costs). I missed the one in Berlin last December. Good news, the first B-Sides London is already scheduled on April 20th 2011 (save the date). London is a very nice city and well deserved by public transport. Do not hesitate, it's free!
At the moment, all available seats have all been sold reserved but there is a waiting list in place. The CFP is still open until February 15th. The proposed talks looks very interesting. I'll be there!