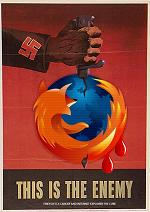 Do you know the latest Belgian joke? As lot of Belgian citizens, I'm bullet-proof against Belgian jokes, they are part of our life. But this time, it affected me!
According to the following article (in French, Google translation here), Firefox is temporary (?) banned from all the workstations used in the Walloon Administrations! Users have up to 28th of September to get rid of their Firefox.
On a management point of view, the standardization of all the desktops (~9000 according to the article) is a good idea: This improves the deployment of new devices (like working with hard disk images), decreases the load of the helpdesk. Lot of users installed Firefox by themselves.
When I read why it was decided to ban Firefox and, more, by which browser it will be replaced, I was left speechless… The decision to get rid of Firefox is based on a recent security issue which affected the software. Which one? No mention in the article. But, the worst news is new official browser to surf the web: Internet Explorer 6! Don't laugh: IE6, an height-years-old browser!
This is certainly not my intention to revive the war between Internet Explorer and Firefox. The same story could apply to any other browser or application.
Today, the Internet browser is part of your work environment. You use it all the time (Internet, Intra/Extranets, browse local documentation, configure devices, etc). Browsers are used by Walloon officials for two purposes:
Surf the Web
Access internal applications (Intranet)
Everybody knows that the world wide web is a jungle today and surfing the web using an outdated browser goes really against the principle of due diligence. Even if IE6 is still supported by Microsoft, the software company pushes the pressure to switch to a newer release asap.
The other reason of IE promotion is the compatibility with the web applications inside the administration. Compatibility is assured only with IE6. Why web developers do not support recent browsers? I'm curious and would like to see the quality of the written code.
All applications can become targets of attacks or have nasty bugs. Proper communication and security awareness programs could increase the users security instead of simply rolling back to an old technology. Could you imagine the same story with cars? If a defective ABS system caused a crash, will you force everybody to leave cars at home and use bicycles?