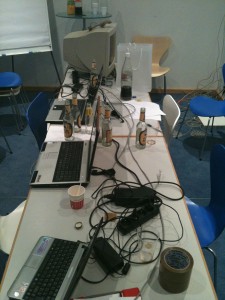 Sunday… I slept a few hours… Strange feeling, BruCON is already over. But no regrets! It was amazing to participate to this security conference from inside. We can be proud of it: Belgium has now its own conf! Once again, thanks to the core team which organized such great event.
As you can see on the picture, Club-Mate helped to give the best of us during the weekend! 😉 I was involved as a volunteer and did not really have time to blog about the conference itself. For a good overview of the talks, visit Chris John Riley's blog. But, there was a huge amount of messages posted on Twitter! Follow the hashtag "#brucon" to review what's happened and upcoming news.
I didn't follow lot of talks but did a lot of social networking. I meet (for the first, second or more times) nice guys (and girls!). The ambiance was amazing. I was totally disconnected from the real life since Thursday evening.
Personally, I liked the quality of speaker's presentations, their availability, the lounge and its special ambiance increased with the help of invited hacker spaces and, of course, the after party:

I also appreciated the venue of BISSI ("Belgian State in terms of Information Security") and their presentation about the current status of their initiative to increase the security awareness in Belgium. On the other side, no communication about the upcoming Belgian CERT. Shame! It was really "the" good place to make a big announce (IMHO).
While discussing with speakers and visitors, first feedbacks received were very positive. This gives even more punch to the crew: A lot of volunteers already notified their presence for the next edition… See you in 2010!