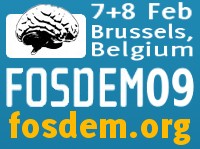 The 2009 edition (9th edition) of FOSDEM is already at our door!
This event is scheduled on 7 and 8 February in Brussels (in the ULB campus). It's now time to make my selection of sessions I'll attend. The whole planning is available online.
I plan to go on Sunday (the weekend hours will be load-balanced between FOSDEM and family!).
Here is my current selection:
If you plan to be present on Sunday too, drop me a note! Maybe can we try to meet overthere?