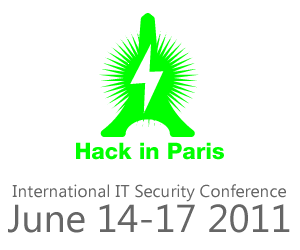 "La Nuit du Hack" is a well-known event organized since 2004 (!) by Sysdream and HZV in Paris. I went to the 2010 edition, my wrap-up is available here. This last edition was victim of its success and access to the boat (yes, it was organized on a boat!) was extremely difficult and conditions to follow talks not always optimal. Anyway, it seems that the organizers took this into account and a brand new event is planned this year!
Planned in June, the event will be split into two parts: "Hack In Paris" and "La Nuit du Hack" with nice improvements. First, the venue changed too. The conference will held at Disneyland Paris Conference Center. Second, it is now a real conference based on a classic schedule: 2 days for trainings and 2 days for talks. To close, the "Nuit du Hack" will be held with a big CTF contest! The trainings were already announced:
Peter is a friend and trust him, he knows his topic! About the talks, the call for papers is still open! My planning is already full but I'll try to join Paris the last day of the conference, Friday the 17th. In the mean time, the organizers provided some discount codes for me. Here is my gift:
5 x 10% discount code for the "Hack In Paris" event (Thursday – Friday)
5 x free tickets for the "Nuit du Hack" (Saturday)
If you are interested, drop me an e-mail: xavier [at] rootshell [dot] be. First come, first served!