I hope it's not the same for you, but I saw a dramatic increase of false registrations on my blog for a few days (spambots). I decided to take action and search for a solution.
WordPress is a blogging system which can be extended by plugins. After some investigations, I found and decided to test a plugin called "sabre".
Developed by a French guy, Sabre stands for "Simple Anti Bot Registration Engine" and offers a lot of nice features. The following list was interesting to me:
Inclusion of a captcha in the registration form (with complexity fully configurable!)
Unobstrusive tests to detect if registration is done by humans or not
Registration blocked if Javascript is unsupported by the browser
The user can validate his registration by clicking on a link sent by mail
User must agree with a warning text, disclaimer or general policy note when registrating
(Other features are available, check the full list)
The installation was pretty straight forward as for a WordPress plugin and the configuration took me a few extra minutes. The plugin integrates a statistics module for the dashboard. A few minutes later, some bots were already catched: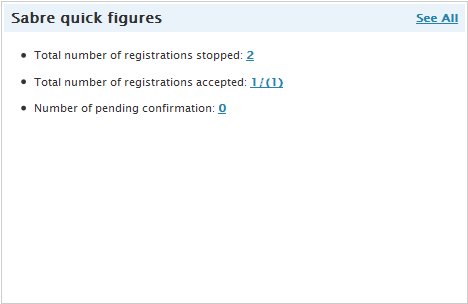 My blog has also an OpenID authentication module. Both plugins work in the same time but the generated HTML layout is a bit "strange". I had to fix some HTML code. Anyway, it's a great plugin, thanks to the author. Keep up the good work!