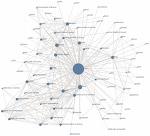 Are you multi-homed? In short terms, are you connected to the Internet via more than one Internet Service Provider? Today, more and more business activities rely on Internet: corporabe website, emails, online shopping.
Loosing your Internet connectivity is a major risk. Could you evaluate it? What will happen if your Internet connectivity goes down? Ok, you can have a redundant network and servers topology but if "something else" append? Read the following story: http://www.datanews.be/nl/90-61-18180/article.html?cid=rss
This is a really bad publicity for the ISP:
Link to the ISP homepage: http://www.e-leven.be/
Note: In this specific case, the outsourced service is the ADSL network. Of course, it's difficult to have a redundant solution here.